Design of Textile Flexible Materials with Application of Additive Manufacturing
Opening
: Tuesday, September 18, 2018 at 19.00, Jade Gallery of Museum of Applied Art
Candidate: Maja Milinić-Bogdanović
Mentor: Professor Ivana Velјović, Faculty of Applied Arts, Department for Textile Design
Design of Textile Flexible Materials with Application of Additive Manufacturing
is the subject of the doctoral thesis of Maja Milinić-Bogdanović. The exhibition featured at the Museum of Applied Art represents the total comprehensive sum of this doctoral thesis, comprised of the artworks created in physical materials, of video projections, and of large format photography.
The subject of this doctoral art and designer work is the research into new aesthetics of flexible structures of surfaces in textile design. The surfaces of textile, used for clothing, were created with imaginative employment of biodegradable materials, with application of additive manufacture.
The aim of this work is the affirmation of additive manufacture in textile design, by creating the wearable materials produced with FDM (Fused Deposition Modeling) – the technology of modeling with melted, deliquesced, deposits – filaments applied in layers, creating three-dimensional objects.
In the research and the reconsideration of artistic and aesthetic values of the structures of textile surfaces, various kinds of fabric were produced with contemporary technical and technological procedures, starting with a selection of authentic elements created by the nature, as an everlasting source of inspiration for artists. These natural elements were applied here in the context of contemporary textile. Textile plays an important role in the development and the correlation of multidisciplinary areas that arise in the processes of pursuing and application of new technologies.
Biography
Maja Milinić-Bogdanović was born in Belgrade on May 05, 1972. She graduated from Department for Textile of the Faculty of Applied Arts in Belgrade in 1996, and earned the master of arts degree from the same faculty in 2010 with thesis "Batik and Textile Preservation Technologies", mentored by Prof. Ivana Velјović. She has been a member of ULUPUDS as of 1998. She teaches at Belgrade Polytechnic College. She is engaged professionally and works on projects within which she successfully incorporates all her experiences with textile design. Her work done within the scope of her doctoral thesis and research brought her awards for innovations:
at XX International Exhibition of the Association of Innovators of the Republic Srpska, held in Banja Luka "INOST OF THE YOUNG 2018", she won the SILVER MEDAL and PLAQUE for innovation.
at XXXV International Exhibition "INVENTION – BELGRADE 2018" she won the GOLDEN MEDAL FOR INNOVATION in design, as well as the DIPLOMA FOR INNOVATION.
Selection of works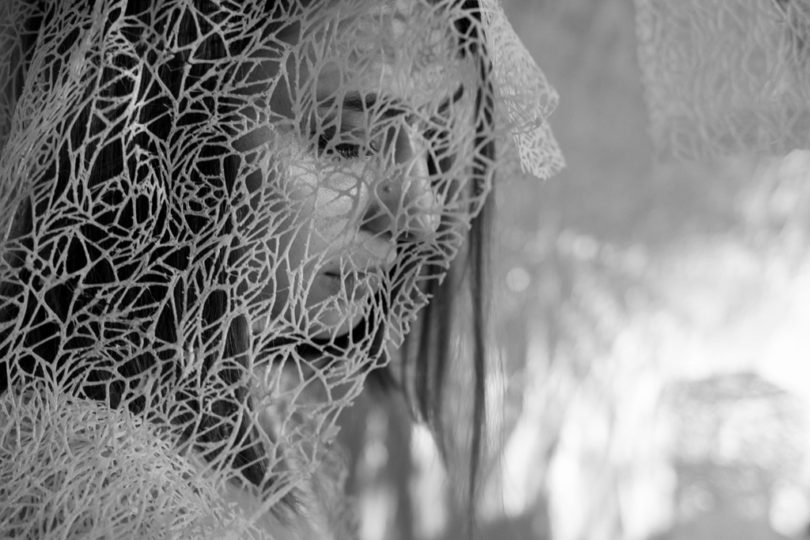 Photography: Sofija Modošanov
Photo Assistant: Katarina Marčetić
Model: Nevena Velkovski
Photographs from the Opening Ceremony